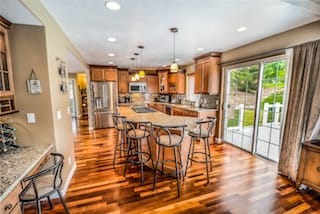 Often referred to as the "heart of the home" the kitchen is a gathering place, a place of nourishment and fulfillment, and often a design challenge. Although we have come a long way from avocado green appliances, linoleum, and brown everything, kitchens continue to evolve.
Bruce Acord, the Industry Director for Appliances at Mar-Bal explained that "stainless is now the big player in appliances and we see that growth continue year after year. Although it used to be only used on high-end appliances, it's now available in virtually all price points." The trends for 2018 maintain our love for stainless steel, but also bring in more moody styles like black and grey to offset the whitewash trend of the last decade.
John Megyimori, Mar-Bal Program Manager, explains how composites contribute to the latest kitchen trends. "At Mar-Bal, our Thermital PVD mimics stainless steel, but is seamless and offers greater variation in color. For example, black stainless is a hot trend and we can color match for added customization. No longer is stainless steel just silver, it is now dark or even bronze to really add dimension to a kitchen. Our products also share the haptics of stainless, so it's still very cool to the touch and has the same look and feel as stainless."
The flexibility the composites provides pairs nicely with the 2018 kitchen trends of personalization, according to House Beautiful. People will be looking to experiment with bolder colors and textures, which could include mixing warm wood tones against stainless appliances. "Mar-Bal's BMC materials can be color matched to the exact shade desired for added sleekness and sophistication", according to Acord. This is what enables people to have a totally customized looking kitchen.
As evidenced by the 2018 Consumer Electronics Show, people will continue to get "smarter" at home. Appliances will now be created with the ultimate consumer experience in mind to make our days as easy as possible. Can you imagine cooking dinner on a stove that will help you measure, time and cook your next meal? You don't have to imagine anymore. Companies like GE are integrating LCD displays on wall ovens and Whirlpool acquired Yummly, an app that finds recipes based on your likes and dislikes. The continued use of composites in the kitchen will also cut down on noise, particularly on appliances like Vitamix blenders to give the user a more pleasant experience.
2018 is poised to be a year of change for all things around the home, particularly in kitchens. You will start to see visual changes, but also changes in how we think about and use, even interact with appliances. Care to guess what changes we'll see in 2019?