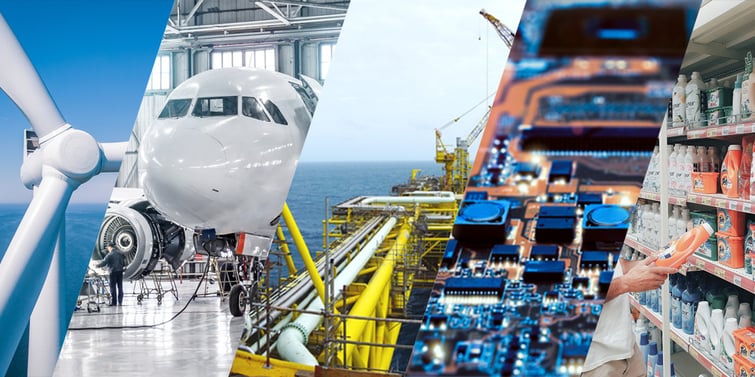 Innovation drives the industrial economy. Finding new ways to do things or honing existing processes gives companies a competitive edge. For businesses producing material goods, this often means finding a more cost-effective way to produce their product, without compromising quality — and for many, that's where composite molding comes in.
Composite molding has been on the upswing for years now. The materials market has a trajectory expected to top $38 billion by 2023. But that's just a fraction of the value composites bring to the greater manufacturing market. The composites sector as a whole — including products — should top $107.4 billion in that same time. Safe to say, composites play a big role in the future of manufacturing production.
The demand for composite products like fiberglass grows annually. But where is this demand coming from, specifically? What industries drive the largest demand for composites? Here's a look at five of them:
Renewable energy (wind). Wind energy represents the largest market for glass fiber-reinforced composites. Turbine blades themselves account for a large portion of the growing demand for composite-molded materials — as much as $12 billion by 2023. Composites are key in this industry, bringing lightweight strength to turbine applications.
Aerospace. Lightweight durability has always been the goal in aerospace manufacturing. Composites make it more of a reality than ever before. Carbon fiber is the driving material within this market and has seen adoption rates grow by as much as 290% since 2012. Major manufacturers like Boeing and Airbus are already shifting production initiatives to focus more on composite components.
Marine. Resistance to water, salt, chemicals, and other erosive substances have firmly entrenched composite manufacturing in the marine industry. Boat sales also are on the upswing in recent years, according to the National Marine Manufacturers Association.
Electronics. Electrical resistivity and high flame-retardant materials are in-demand across the electronics industry. Composites deliver the crucial attributes electronics manufacturers need to produce safe, reliable, affordable products, including glass-fiber and epoxy laminate components. Breakneck growth in the consumer electronics market could drive demand for composites as high as $76.9 billion by 2024.
Consumer goods. The U.S. is amidst the transition from a producer economy to a consumer one. This means demand for affordable, reliable consumer goods continues to rise. Everything from furniture to décor, lifestyle items to home materials are in demand. As producers strive to keep pace with demand, composites step in as the answer to the question of affordability versus durability versus expediency of manufacturing.
These aren't the only markets driving demand for composite materials. Automobiles, construction, and supply chain logistics all weigh heavily in the realm of composite molding. And, as innovations like additive manufacturing grow to become commonplace, they'll also drive demand for composites. The world of manufacturing is shifting toward a new age of production — one focused on and driven by composite molding.
Composite molding is the path forward for many industries looking for innovation. It won't be long before composites make their mark on goods and services in emerging industries and set the tone for lower costs, better production standards, and longer product life. And, with emphasis on sustainable practices, composites are a natural fit for the manufacturing landscape of the future. Contact Mar-Bal today to learn more.