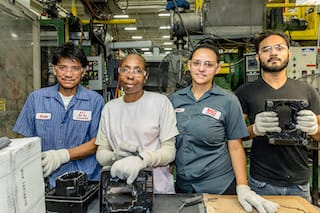 Mar-Bal is often described as an industry leader, cutting-edge, and the largest manufacturer of insulators. While all of those things are true, there's more to Mar-Bal than the adjectives. Mar-Bal is a family business in every sense and this is demonstrated through the values of Mar-Bal both within and outside of the office, factory or plant. If you were to ask a Mar-Bal employee to describe Mar-Bal, the three most likely answers would include: quality, benefits, and respect.
Quality. This not only refers to the high-quality products produced, but also the high-quality leadership, high-quality equipment, high-quality customers, and high-quality environment. The employees value quality which is why quality is delivered to customers. Each employee at Mar-Bal also receives training, teamwork, and learning opportunities, which help them feel valued and allows them to give their best each and every day. Quality extends far beyond the end-product. Quality is a way of life at Mar-Bal and it is demonstrated through the values of integrity, satisfaction, and innovation.
Benefits. You might be thinking Mar-Bal offers great benefits packages with good health insurance and retirement options. You're right, but Mar-Bal also does anything and everything to help employees benefit from their job, and to help customers see the benefits in working with Mar-Bal. As Maria Gaeta, the Director of Human Resources explained, "If you take care of your employees, your employees will take care of your customers." Everyone benefits under this business model.
The benefits are also shared through constant reinvestment. For example, Mar-Bal is currently working on building a state-of-the-art plant in Painesville, Ohio. This plant will help Mar-Bal continue to be an industry leader, but it also will provide higher quality working conditions and help more people succeed in their jobs.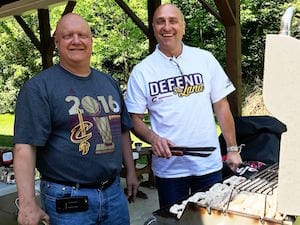 Respect. Mar-Bal did not become a respected and trusted industry leader without first gaining the respect of its employees. The only way to earn respect is to give it. Everything at Mar-Bal is a reciprocal relationship. The employees are respected and in turn, they respect the customers, who then respect the company. Mar-Bal takes the time to talk to employees and customers and really find out what is working and what isn't.
This is further demonstrated through the family approach to business. Mar-Bal treats employees and customers like family. It operates with complete transparency and sets people up for success. Clear goals and objectives are set, and people are given the plans and tools to help achieve the goals. Employees and customers are engaged and included in decisions. This is a big reason why Mar-Bal has so many long-term employees who have worked with the company for over 30 years and truly grown up in the family.
Mar-Bal is more than a plastics manufacturing company. Mar-Bal is a family that is committed to providing high-quality products to customers and realizes that without a happy and satisfied workforce, that would be impossible. Just like parents cannot take good care of their kids unless they're taking good care of themselves, Mar-Bal is taking care of itself so that it can take care of you.