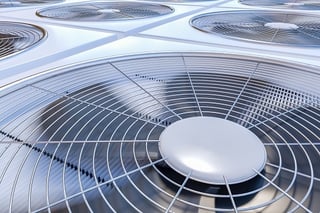 As a director in your organization, building solid vendor relationships is one of the key factors in the shared success you have with your vendor. Understanding where your vendors can add potential value in unexplored areas of the business is huge. Learn below how thermoset composites and thermoset composites properties are changing the face of the HVAC industry.
Thermoset composite use spans multiple industries in both commercial/industrial and residential applications. HVAC is now proving to be an area of growth for thermoset composites. Until recently, metal housing and components dominated both the residential and commercial HVAC industry. Over time, these components proved troublesome for a few reasons:
Rust
Corrosion
Sun Damage
Noise
Mold and Debris Contamination
Unlike their metal counterparts, thermoset composites properties combat all the issues above at a lower cost. But what exactly are thermoset composites properties, and how are they transforming HVAC?
Thermoset Composites Properties
Thermoset composites are not one material but rather a family of formulations. Each formulation exhibits unique sets of properties that make them an ideal choice for their applications. Here at Mar-Bal, we can even create a custom formulation for specific applications requiring it. For example, an external housing unit like an air conditioner may need stronger heat or corrosion resistance. Not all thermoset composites properties are custom created, however. Here are a few of the more commonly used properties in the HVAC Industry:
High heat resistance/Low heat transfer – Thermoset composites remain stable in high and dynamic temperature applications making them highly suitable for use in the HVAC industry. In addition, thermoset composites have good insulating properties, making them suitable for housing use in high temperature environments.
Durability – Because of their rigid inter-linking molecular structure, inert chemical composition, and resistance to UV and chemical attack, thermoset composites are very durable. Structures (especially those with housing units exposed to the weather) made of composites have a long life and need little maintenance.
UV stable – Composites can be formulated to exhibit superior color fastness and resistance to UV degradation. UV damage in metal A/C units is a non-issue with thermoset composites properties.
Corrosion resistant – Because composites do not contain metal, composites perform well in corrosive environments. This offers A/C units exposed to the elements a much longer lifespan.
Coloration – Thermoset composites can be formulated in a wide variety of colors. Colors are consistent throughout the material, therefore their color cannot be scratched or abraded. Because thermoset composites can be formulated for UV resistance, colors remain vibrant longer than painted or coated material. This is especially nice for residential builders looking to add value for their residential clients.
It's fairly easy to see why thermoset composites properties are serving the HVAC industry in a way their metal counterparts never could. For an in-depth look at how thermoset composites play in the HVAC industry, download our comprehensive guide, "How Thermoset Composites Work in the HVAC Industry."